Investigation Discovery: Cry Wolfe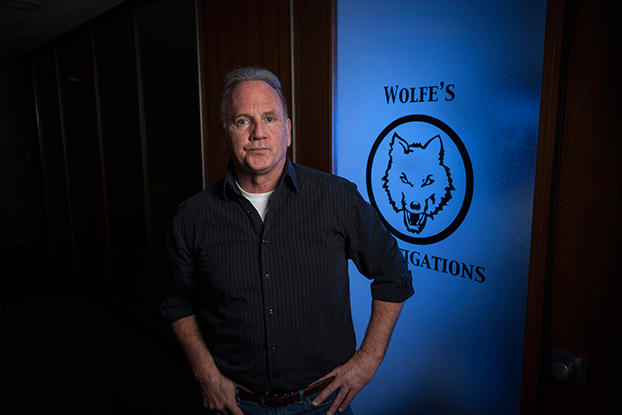 DCI
"Cry Wolfe" on Investigation Discovery.
We've all had suspicions about shifty people in our lives keeping secrets behind closed doors, but sometimes it takes a seasoned pro to catch them in the act. Investigation Discovery's new series, CRY WOLFE, introduces private investigator Brian Wolfe, a no-nonsense guy with a thick Boston brogue and a talent for detecting fact from fiction. Inspired by true accounts from his actual case files, each half-hour episode features Wolfe and his investigative assistant, Janine McCarthy, aka "McCaahthy," as they expose cheating spouses, dishonest employees, con artists, and scammers to deliver answers to their clients. Cameras follow Wolfe and McCarthy from the initial consultation to the inevitable confrontation as they gather irrefutable evidence against their target - with Wolfe conducting the field work, letting viewers in on his arsenal of P.I. tricks, and McCarthy tracking the internet breadcrumbs. In dramatizations of the cases, names have been changed to protect clients' identities with Wolfe and McCarthy reflecting on their detective work.
Each episode of CRY WOLFE begins with a consultation between Wolfe and his new client. He learns the backstory and is provided all the evidence so far, such as telltale signs of missed calls, unexplained late nights, or sudden strange behavior. While McCarthy is a pro at sifting through the online paper trails, Wolfe leads the investigation the old fashioned way. From elaborate disguises to extensive background checks, hidden cameras to digging through the trash, Wolfe pulls whatever tricks he can out of his arsenal of tried-and-true P.I. tactics to uncover the truth behind his client's suspicions. Viewers are kept in suspense as the twists and turns reveal a shadowy world where things aren't always as they seem. Each episode ends with a heated confrontation, resolution for the client, and update cards letting viewers know the current status of the situation.
About Brian Wolfe
Brian Wolfe has 25+ years of experience as a private investigator. Former high school and college quarterback, Wolfe went on to try out as a pitcher in the minor leagues for the Kansas City Royals. After becoming a family man, Wolfe turned his sights to the world of investigative work and even provided executive protection for Hollywood's elite. In addition to domestic and worker's compensation assignments, Mr. Wolfe has worked as the lead investigator in high profile homicide cases. In 1998, Wolfe opened his own firm, Wolfe's Investigations, where he puts his 17+ years in the field to good use, providing his clients with the best investigative service.
About Janine McCarthy
Janine McCarthy was born and raised in the San Fernando Valley, a true valley girl. McCarthy enrolled in California State University of Northridge and graduated Cum Laude with a bachelors degree in Criminology in 2008. By 2009, McCarthy had worked a couple of retail security jobs but still wasn't sure what she wanted to do with her life. All she knew was that she wanted to put her degree to work. With the help of a long time friend and colleague of Wolfe's Investigations, she was introduced to Brian Wolfe and the world of Private Investigations. The rest is history!
About Lisa Perez
Lisa Perez has 15 years of experience in private investigations. She and her husband, Leo Perez, owned and operated their own private investigation company that focused on both domestic and workers' compensation investigations. Lisa specializes in going "under cover" to get the information needed to solve a case. She first partnered with Brian Wolfe in 2001 by assisting him on a case which required a "female touch" and has since continued to work with him. She loves the challenge and excitement of investigative work and enjoys going above and beyond to get the job done. Lisa and Leo have been together for 23 years and have three beautiful children, Jade Marie 19 and identical twins Jace 17 and Jake 17, which always keep her busy and are her first priority. In addition to her full time job she volunteers in her community by serving as the President of the Corona Centennial High School's Football Team Booster Club.